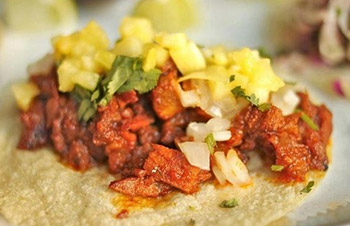 Mar 11 2013 ~ Indianapolis Bakersfield Mass Ave. earns an A
If you work, live, or simply visit Downtown with any regularity, you've probably been eyeing the former Bazbeaux space on Mass Ave., wondering what would go in and when. Then when we learned that it would be the home of Bakersfield, an Ohio-based homage to southern California's boot-scootin' inland empire, the question became, 'Will it be any good?' The answer is yes.
Bakersfield, located at 334 Massachusetts Ave., specializes in three things: tacos, tequila and whiskey. And when I say they specialize in them, I mean it; these guys know how to do it right. The selection of tequila, whiskey and beer at Bakersfield ranges from affordable and local to super premium bottles you won't find anywhere else. The food is simple, yet delicious authentic Mexican street-driven fare.
Source: Indystar.com by Rachel Rubenstein