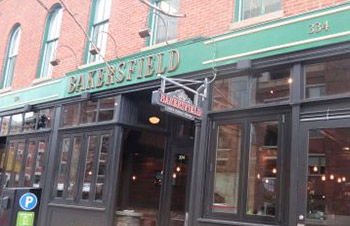 Mar 11 2013 ~ Indianapolis Now Open! Bakersfield On Mass Ave.
Bakersfield is situated in a great location in downtown Indy (across from Bazbeaux and Ball and Biscuit) This new addition ushers in a more well-rounded Mass Ave, and provides another fantastic dining and drinking option. The menu here is refreshingly uncomplicated and succinct. Selections of eight different tacos ranging in price from $3-$4. Chips and guacamole, salads, and tortas.
The usual local suspects on tap such as Sun King's Wee-Mac, and Upland as well as a daily $2 "Boot" of Pabst. Rotating options of $3 Whiskey and Tequila shots. A ROSE Sangria that sounded AMAZING-but ultimately, I HAD to go with a margarita. First Margarita I had was the $12 Premium Margarita, it was a tad overly sweet. It's funny, but I found my second choice, the $6 Bakersfield Margarita, was actually far better than the premium.
Source: Market and Meridian by Staff