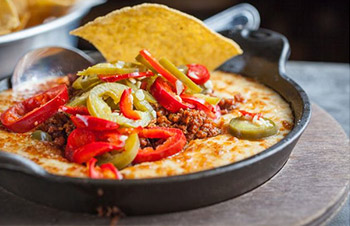 Oct 31 2013 ~ Columbus Bakersfield brings barrels of big Western fun to Short North
"Every hour is happy in here," giggled my server when I asked about HH deals in the brand new Bakersfield. Before the evening was over, I wanted to shake that truth-teller's hand because Bakersfield is the most fun bar/restaurant to open this year for econo-minded revelers. See, you needn't play "Beat the Clock," in this playground of big flavors and cut-loose ambiance, because inexpensive treats await you all-day everyday.
Eight kinds of attractive, over-stuffed-into-homemade-corn-tortillas tacos go for $3-$4 apiece (good, but I'll mention better edible bargains soon). Drinkwise best buys include $3 daily chalkboard shots (e.g. Bulleit bourbon), $2 pints of PBR (served in glass cowboy boots of course) and $6 Mason jars of more-tart-than-sweet Bakersfield Margaritas, i.e. the best damn cheap margaritas in town. OK here's the caveat: This place is such an instant phenomenon that, even on a Monday, tables can be scarce during prime time (try arriving prior to 7 p.m.).
Source: ColumbusAlive.com by G.A. Benton