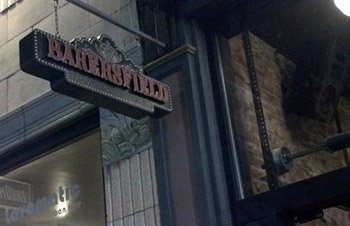 Mar 6 2012 ~ Cincinnati Whiskey/tequila/taco spot joins the burgeoning Gateway scene
How lucky would you have to be to live in the Gateway District right now? We've raved about so many great places that have opened recently. Now it's Bakersfield's turn.
Bakersfield OTR just opened in February. We usually try not to hit places when they're brand new. Sometimes new restaurants need time to get up to speed and iron out opening jitters. None of that at Bakersfield. They know exactly what they want to be and are hitting the mark.
What kind of restaurant is it? It doesn't do it justice to say it's a bar or a taco joint, although it's clearly both. The menu — and the bar — are honed down to a few things done well, which is the sign that they know their mission. The bar's top notch, but it's not a something-for-everybody place. There are no frou-frou candy-flavored drinks in sight. Johnny Cash and Hunter S. Thompson are the inspiration, tequilas and American whiskeys are the focus and margaritas are the feature.
Source: CityBeat by Anne Mitchell